Noel Jones announces new charity partnership with Challenge at 2022 Noel Jones Awards Event
Friday 12 Aug 2022
On 30th July 2022 Noel Jones celebrated their annual End Of Financial Year Awards, by coming together for a gala event where they got to celebrate individual team member success, the entire 9 office network and their new charity partnerships with Challenge along with the newly launched Noel Jones Community Support Program.
This year's event was held at the beautiful Crown Aviary, where Noel Jones best and brightest came together to celebrate the hard work and success of the entire Noel Jones network over the past year.
Noel Jones leaderships group would like to congratulate all award winners and thank all Noel Jones team for their valuable contributions over the last year.
Noel Jones Award Winners 2022
Outstanding Salesperson Award Winner – Simon Keele
Outstanding Property Manager Award Winner – Jason Caughey
Outstanding Business Development Manager Award Winner – Ivy Mao
Outstanding Administrator Award Winner – Jo Tuhan
Outstanding Salesperson Award Runner Up – Mike Wang
Outstanding Property Manager Award Runner Up – Ashlen Lont
Rising Star Award Sales Winner – Adam Thompson
Rising Star Award Property Management Winner – Isabella Han
Rising Star Award Administration Winner – Kelly Jarvie
Rising Star Award Sales Runner Up – Patrick Leydin
Outstanding Salesperson Award Third Place – Dylan Hare
Outstanding Property Manager Award Third Place – Michelle D'Assisi
Noel Jones Excellence Award – Laura Geddes
Noel Jones also announced their new and exciting partnership with Challenge, a not-for-profit organisation that supports children and families living with cancer, 365 days a year.
The new charity partnership will play a significant role in supporting the day-to-day delivery of services and help to provide various opportunities and experiences for families and children.
On the night, guests heard from David Rogers (Challenge CEO) who shared his gratitude for the partnership, explaining that Challenge relies on community support to provide their invaluable services to families affected by cancer, and with partnerships such as this providing crucial funds.
Guests also heard from Xenia Alexander's story, who at 15 years of age had her life changed forever when she was diagnosed with AML, a form of Leukemia. Xenia's story was raw and emotional. The whole treatment process did not really agree with Xenia, as with most kids, and it took a toll on her both mentally and physically. To her credit, she battled through like the amazing person she is, to become an inspirational and passionate woman advocating for other young people living with cancer, as well as striving to be a role model for the community.
Over the years, Challenge has expanded from a valuable camping program to become the first organisation in Victoria to provide a range of ongoing support and recreational activities for families living with cancer.
In 2011, the organisation undertook its biggest project to date, opening the Challenge Family Centre. The Centre is a project driven by the voice of our families and is the perfect extension to complement the existing support offered by the organisation. The Centre provides a non-threatening space where families can come together and feel completely supported in their journey from the time of diagnosis, throughout the treatment period and beyond. The Centre is a one-stop shop for the non-medical needs of our members where they can access many different programs and services.
As part of Noel Jones ongoing commitment and support to Challenge, Noel Jones were also pleased to announce that they will be funding a new basketball court which is to be built at the Challenge Family Centre. Noel Jones mission is to be able to provide an outdoor space where children and their families can enjoy a game of basketball, feel inspired and empowered and have a little fun.
Along with funding the new basketball court, Noel Jones also announced a donation of $15,000 to Challenge, however on the night of the event, this amount was increased after Connor Pinnington (Noel Jones Novice Auctioneer winner) ran a live charity auction to generate additional funds for Challenge.
The item being auctioned was an incredible Deluxe King Package at Crown Towers and Gift Voucher. In the end they raised an additional $10,000 that will go straight towards Challenge, making the total amount donated by Noel Jones to Challenge an incredible $25,000.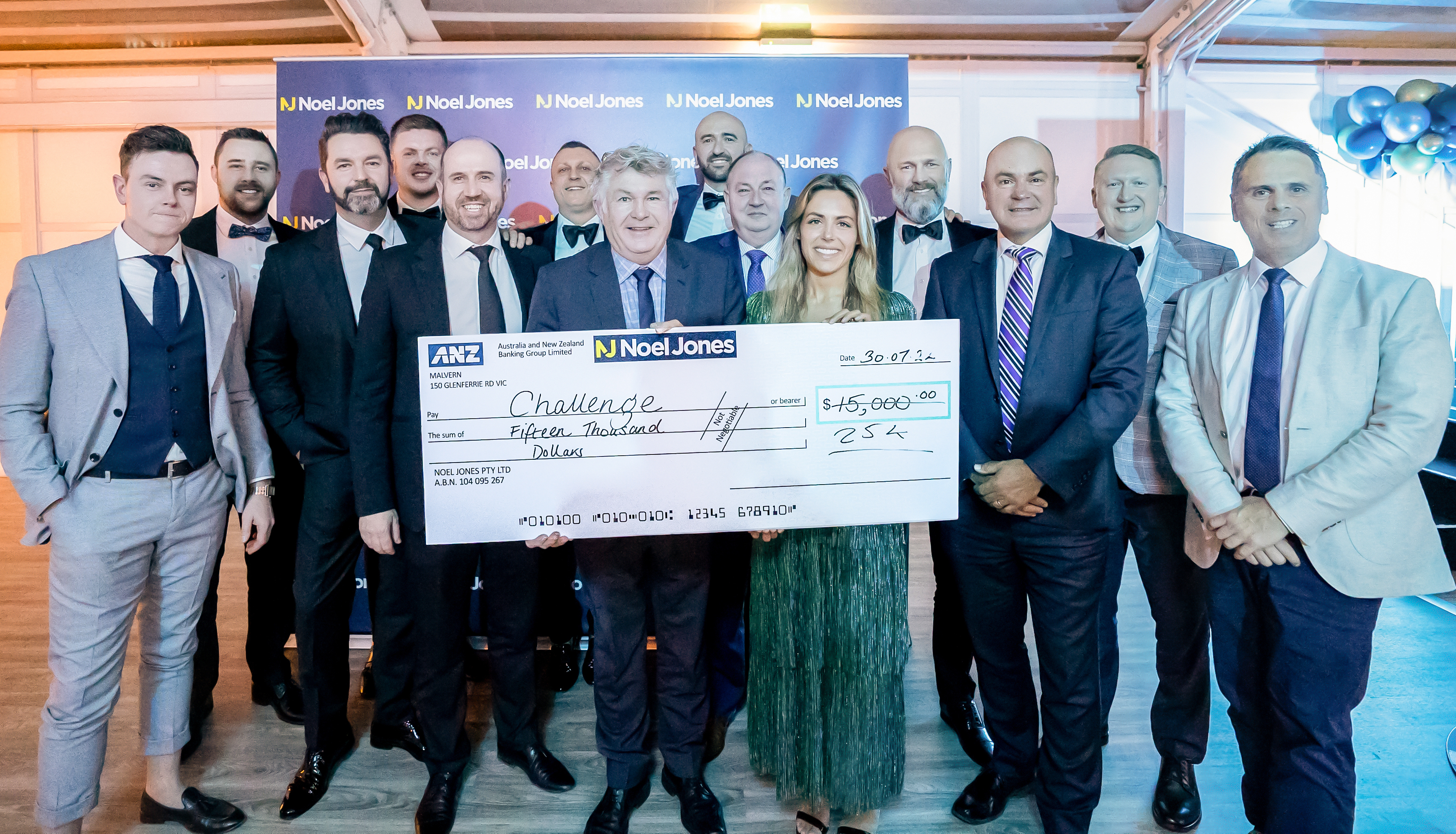 Pictured: Noel Jones Leadership Group with Challenge
From the left: Robert Simpson, Ryan Evans, Tim Penhalluriack, Warren Paas, Brett Freeman, Daniel D'Assisi, David Rogers, Michael Hill, Ted Shackleton, Xenia Alexander, Rohan Calder, Paul Leydin, Mike Muncey and David Fileccia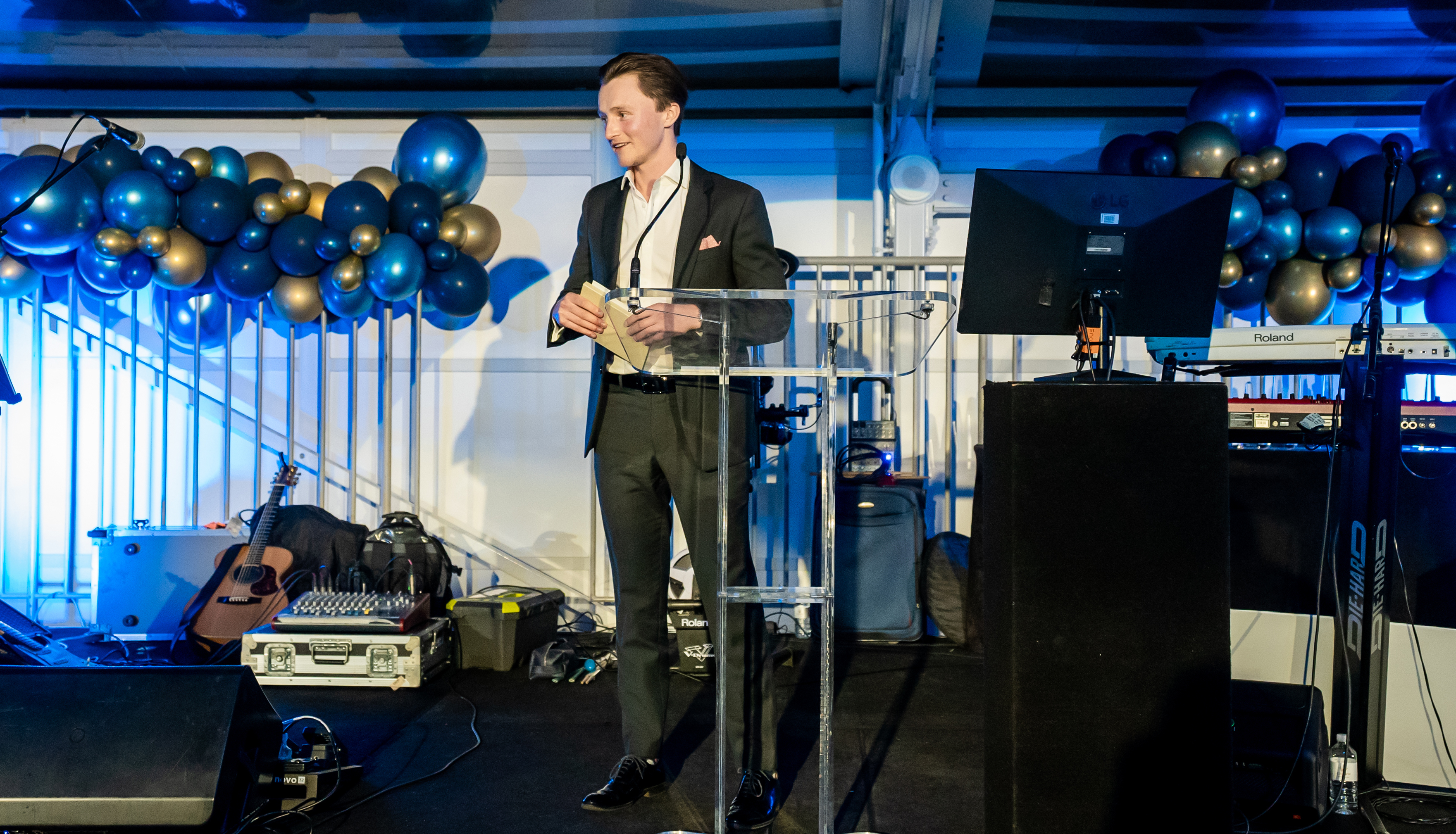 Pictured: Connor Pinnington conducting charity auction
Noel Jones leaders also recognised and thanked their Corporate suppliers for their ongoing support throughout the year.
Weblink/s
• www.noeljones.com
• www.challenge.org.au
About Noel Jones
Established in 1977, Noel Jones has over 40 years' experience in Melbourne real estate. Nine Noel Jones offices are positioned throughout Melbourne's Eastern Suburbs; locations include Balwyn, Bayswater, Blackburn, Box Hill, Croydon, Doncaster, Mitcham, Ringwood and Wantirna. Noel Jones sell and manage properties in these suburbs and their surrounds. The Noel Jones team members typically reside in the area they work in, which in turn allows them to provide expert knowledge of the area.
Media Contact:
Sara Son
Noel Jones
E corporate.administration@noeljones.com.au
T 03 8813 3208