Noel Jones Group Donates To Local Charities
Thursday 01 Jul 2021
Throughout the month of June Noel Jones has given a total of $8,000 to local charity partners as part of the Noel Jones charity partnership program, which allows each office to select a charity that is meaningful to their local area to donate to, alongside Noel Jones main charity partner The Big Umbrella.
For each property sale made at Noel Jones, a portion of funds is directly allocated to their main charity partner The Big Umbrella. An additional portion is also allocated for each office to donate to their chosen local charities. In June there was a total of 8 charities whom each received $1,000 in donations. The charities chosen include 100 Words, Super Dads, Bully Zero Australia, The Grace Project, Doncare, Mitcham Community Meals and TLC Support – FoodBank and Winter Shelter.
Noel Jones are extremely honoured to be able to make a small difference to their local charities, particularly with the challenges many of these groups have faced over the last year and a half. As covid restrictions have significantly impacted many of the charities usual fundraising avenues, many of them are challenged by a reduction in donations and an inability to rely upon their volunteers due to lockdown restriction.
The Noel Jones Mitcham office donated to local charity Mitcham Community Meals. The service has been providing a free community dinner every Sunday since October 2018, where a different local club, business, or church group provides and serves a meal to people in the Mitcham community.
Ben Frawley from Mitcham Community Meals expressed appreciation for the support, "We received an unsolicited call from Noel Jones Mitcham. They rang to offer us a donation towards Mitcham Community Meals running costs. For us it's less about the money, and more about a show of support in what we are doing. We really appreciate local businesses that look for ways to improve our community."
Noel Jones Croydon selected The Grace Project as recipients of their donation, an organisation that helps refugee children living in crisis accommodation receive an education. Director Warren Paas explained why this charity is so important to their office "In our line of work we deal with families who are fortunate enough to be raising kids in lovely homes, and sending them to quality schools. To see the benefits this provides and to know many kids in the world aren't even provided basic education makes this so important to us."
Indeed, each individual office chose an important charity in their local community, with the multiple donations making a positive impact for these deserving organisations across Melbourne's Eastern suburbs.
To find out more about each of the recipient charities please visit the websites below: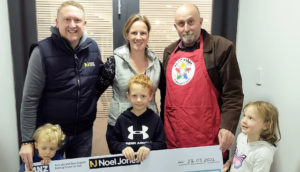 Michael Muncey (Director at Noel Jones Mitcham) and his family pictured above presenting their donation to Ben Frawley at Mitcham Community Meals.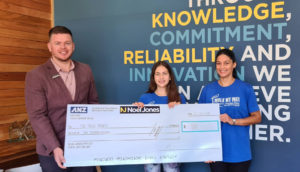 Warren Paas (Director at Noel Jones Croydon) presenting donation to The Grace Project.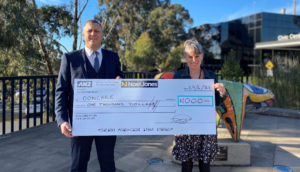 Daniel D'Assisi (Director at Noel Jones Doncaster) pictured with Gaby Thomson CEO at Doncare.