Spring is officially upon us, and it's the first since 2019 that will see us transacting in customary conditions.
Whilst it remains to be seen whether the market will flourish with the same vigour as the spring blooms, Dr Andrew Wilson, chief economist for My Housing Market has recently been quoted as saying that early signs are emerging that suggest declines in housing prices may ease sooner than expected. This is positive news leading into what is normally a sought-after season to sell.
Buyers have once again shown a significant level of faith in Noel Jones' core suburbs and surrounds with the inner and outer East recording the highest auction clearance rates of Melbourne's metropolitan regions, at 65.4% and 61.9% respectively. Figures released for August showed the first uptick in conditions since May, with an increase of 5.4 percentage points, lending support to Dr Andrew Wilsons' prediction.
The median house price reached at auction also rallied, improving by a staggering 11.3% against July's result; it now rests at $1,090,750. These results will be welcome news to those looking to take a property to auction in the spring market.
Louis Christopher, Managing Director of SQM Research believes that the market has now found a base of buyers who see value in the market. "They are a combination of an increasing number of first homebuyers and an increasing number of investors, who are attracted by the surge in rents, thereby pushing up rental yields and are seeking a hedge against inflation."
August saw the rental market strengthen yet again, with a further drop in vacancy rates. The result of 1.3% is remarkably different to the 3.6% vacancy rate recorded in Melbourne only 12 months ago.
Domain has reported that Melbourne saw the country's biggest drop in vacant rental listings, with the number down 61.5% in the past 12 months. This should provide confidence for those looking to enter the investment market in the near future.
Nunawading Cricket Club was this month's worthy recipient of the Noel Jones Community Support Program grant. Based at Mahoney's Reserve in Forest Hill, they are a progressive and family friendly club with great people, great facilities and great cricket programs for girls, boys, women and men of all ages and abilities.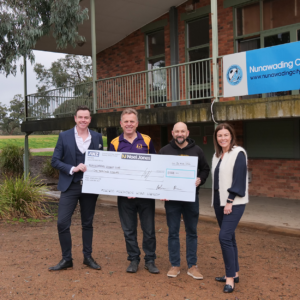 The grant will allow them to design customised girls uniforms, and kick start their women's Social Sixes Program, which they will now be able to offer free to members of the local community from October this year.
You can read more about the Noel Jones Community Support Program by visiting www.noeljones.com.au/communitysupportprogram.
If you have questions about buying or selling in the spring market, contact your local Noel Jones office, or visit our website at www.noeljones.com.au