Repurposing and upcycling are the new buzz words in renovating or building. By using materials that you already have or scouring your local op shop, you can re-use goods that would otherwise go into landfill. So with the big push to help the environment and consume less mass produced goods, you can create a look that is all your own while helping out the planet. Read on for tips to inspire you for your next home project.
Plant Stands and old tins repurposed as vases or planters
Are you a plant lover who surrounds themselves with indoor plants? Finding ways to create different levels to raise plants up can be where you can bring in some op shop finds. How about an old chair or stool or even a tin can acting as a plant stand. Using old tins with colourful labels is also how you can change up your plant collection.
Mantelpiece
Instead of heading out to the timber yard and getting a brand new piece of timber, why not source an old piece of timber that can be re fashioned into an interesting mantelpiece. You might have an old piece of timber lying around or it can be sourced from a second hand timber yard. With a sand and protective finish applied it will be a lovely talking point while re using a piece of history.
Left over floor boards
After having your new timber floor laid you might have some left over boards, why not use them to make up small items of furniture such as a shadow box for your wall, a shelf or even clad your vanity with the timber. This will be a link back to your floor and eliminates the need to go into landfill, as all offcuts or small leftovers have been utilised.
Re upholstering old dining chairs
Think twice before dumping your old dining chairs out onto the nature strip for the hard rubbish collection. Are they still structurally sound chairs, but have tired, tatty upholstery? Then why not have them reupholstered in a fun new fabric or even a vinyl that co-ordinates with your interior.
Sometimes all it takes is a little more thought before we throw something out to buy new. So next time think twice for the sake of the planet!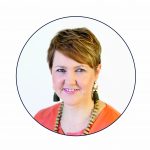 Written by Tania Bell from Green Room Interiors