Article by: Dimitra Protopsaltis of Perini Kitchens & Bathrooms
Soft Colour Schemes
This year, we are seeing a trend towards a softer colour scheme throughout the entire design market: from furniture, homewares and even in the fashion industry. Think natural materials such as furs, light timbers and natural stone, paired with pastel hues, soft greys and eggshell whites. In keeping with the softer colour scheme, we are also seeing a shift away from high gloss cabinetry and a rise in popularity of semi gloss and satin finished cabinets, as shown below in this Armadale kitchen renovation.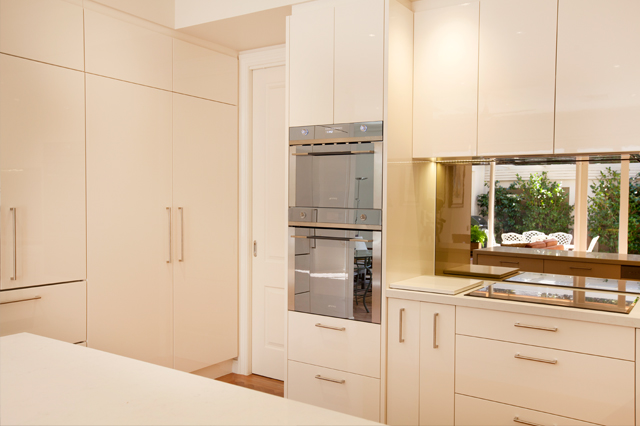 Technology
As we all embrace (and love!) technology as an integral part of our daily lives, the design market is now becoming more inclusive of technology. We are developing more sophisticated appliances (Smart technology), better hardware solutions (Blum's Servo Drive is a great example) and including more and more electrical components within our cabinetry, such as motion activated lighting within pantries. Our Glen Iris kitchen renovation pictured below makes use of the latest in hardware and storage solutions while also incorporating door activated LED lighting in the corner pantry.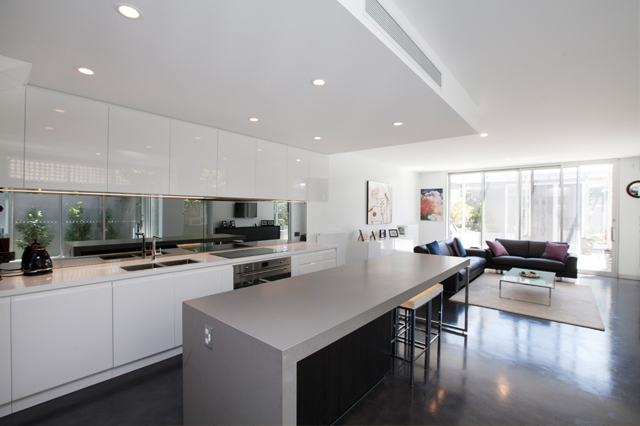 Different finishes in benchtops
Although higher gloss benchtops will always be considered in vogue, there is a new trend towards a softer, satin or even matt finish. With new players in the market, such as Dekton and Neolith, we are spoilt for choice with different sheen levels and textures now available to us. Surfaces to look out for in 2016 include Dekton, Neolith, Marbles or Reconstituted Stones with a marble look, and even traditional concrete (or a concrete look benchtop such as Caesarstone's Sleek Concrete, as pictured below in a new home build by Perini in South Melbourne).
Clustered Pendant Lights
Rather than lining up pendant lights in a tidy row, there has been a rise in popularity of clustering pendant lights at one end of the island bench. This asymmetrical look adds a luxurious vibe to the kitchen while also allowing for more exciting options in lighting to be used, such as the Tom Dixon Melt pendant lights used in this Collingwood kitchen renovation.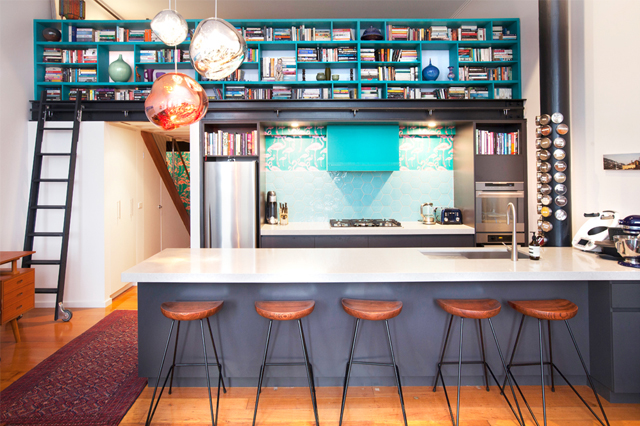 Greenery
With the ever-growing popularity of cooking shows and contests, we are all becoming more and more health conscious. As a result, we do see more people wanting to grow their own produce and herbs. Including a touch of greenery in your kitchen such as an herb planter or succulent plant, furthers the connection between your home and nature while also providing you with fresh, delicious herbs! The below kitchen and living area, part of a Perini project in East Hawthorn, incorporates greenery with flowers and pot plants scattered about the home.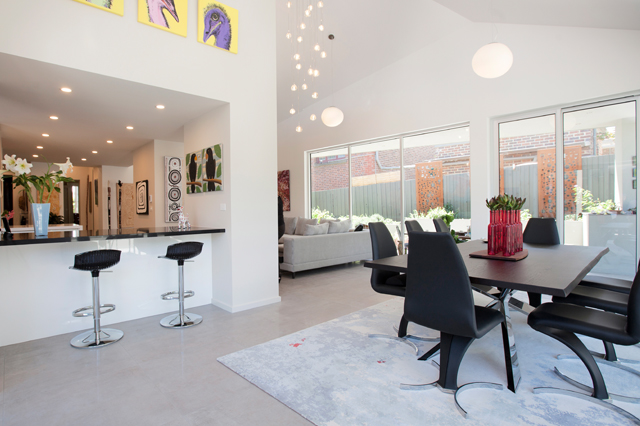 About Perini Kitchens & Bathrooms
In conjunction with Perini Tiles, Perini Kitchens & Bathrooms offers clients a complete design experience. Our team of qualified and experienced Interior Designers will assist your clients through the entire specification, design and construction process.
We offer a range of services to suit your client's needs: from expert advice on colour schemes and finishes, to a complete design and construction package, inclusive of project management by John Perini, Registered Building Practitioner.