Victoria's wild weather, state election and the busiest auction weekend since June made for a newsworthy November.
While auction levels were relatively low during spring, they surged in late November. Almost 1000 homes went under the hammer on the final weekend, with an overall clearance rate of 66.3%.
Melbourne's eastern suburbs had an overall clearance rate of around 70% in November, with several Noel Jones suburbs  featuring in the state's top 10 according to the Real Estate Institute of Victoria. Bayswater North had an 85.7% clearance rate for 35 auctions held so far this year. Blackburn South boasted a similar clearance rate across 124 auctions.
Noel Jones Director Rohan Calder said Melbourne's east had continued its traditionally strong performance despite some uncertainty.
"We are seeing healthy turnouts and willing buyers at our auctions and I see that spanning into 2023," Rohan said.
"Any rise in interest rates after years of historic lows was bound to have a knock-on effect, but the market is adjusting well."
While November brought a small dip in Melbourne's property prices (-0.8%), the rate of decline is bottoming out. Ringwood East and Vermont South are among the suburbs showing early signs of stabilising, according to property advisory firm. In November, the average asking price was up by $54,000 to $900,000 in Ringwood East, while in Vermont South it rose by $163,000.
Noel Jones helped our vendors achieve – and exceed – their asking prices in November. We sold a three-bedroom home in Wantirna South for $1.205 million, beating the suburb's median by $200,000. In Blackburn, a three-bedroom unit sold for $1.16 million – 20% higher than the median.
We expect this run of great results to continue after the Christmas break as uncertainty around interest rates wears off and buyers seek to land a home before years' end.
Property prices have dropped 7% so far this year, bringing Melbourne's median value to $759,496.
While it is unclear how long interest rates will rise, some experts predict property prices will bounce back in 2023, helped along by low stock, accelerating foreign migration and wage growth as well as tight rental markets.
Rental demand has remained high in Melbourne this year, fuelled by low supply and the return of overseas and interstate migration. Rental yields for all dwellings are up by 3.2%, with annual growth in the unit rental market particularly high (13.9%). These rates are expected to continue into the next year.
In some heart-warming news ahead of Christmas, students from St Bede's Primary School in North Balwyn will soon enjoy a new playground, assisted by a grant from the Noel Jones Community Support Program.
"This project captures exactly what our program is all about – supporting and shaping local communities," Principal Brian Grace said.
Head to our website to learn more about the program.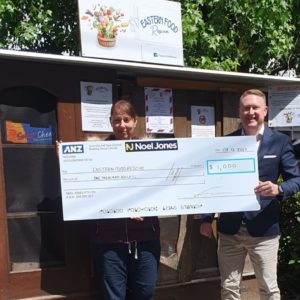 Finally, we wish you and your loved ones a wonderful festive season and 2023. For trusted advice on your property journey, Noel Jones is just a call away.